Equity, Diversity and Inclusion
Equity, Diversity and Inclusion in the Department of Psychology
The Department of Psychology is committed to fostering a culture of equity, diversity and inclusion, and stands in solidarity with marginalised and equity-seeking groups. We acknowledge that members of equity-seeking groups may have experienced barriers to education, employment, and full participation, due to structural and other factors (e.g. systemic discrimination, economic disadvantage, anti-Black racism, racism, sexism, ableism, transphobia, or homophobia).
It is our professional and social responsibility to promote the understanding and respect of diversity and intersectionality in culture, circumstance, race, aboriginality, ethnicity, gender, age, (dis)ability, religion, language, sexual orientation, gender identity and expression, socioeconomic status, and place of origin. We want to raise awareness about implicit biases, harassment, and systemic discrimination (including anti-Black racism) in order to promote fair treatment and outcomes for people of all identities. 
As well, we acknowledge that we can and should do more to prioritise inclusivity and support the voices of marginalised groups. We are committed to examining and changing our practices given our position of privilege as an academic department, and in light of our discipline's historic role in supporting and perpetuating scientific racism and other oppressive ideologies and practices.
We have begun working to ensure that the values, goals and practices in our department reflect this commitment.
 
The Psychology Equity, Diversity and Inclusion Committee
Our mission: To promote an equitable, fair, and diverse departmental community that is inclusive of its members and those the department serves.
Faculty Members
Pat Barclay, Kaitlyn McLachlan, Leanne Son Hing, Jeffery Yen (Committee Chair)
Staff Members
Bianka Dunleavy
Graduate Students
Anastasia Bolgova, Caren Colaco, Martina Faitakis, Mohamed Hassan, Nicholas Hennessy, Erica Johnston, Poojan Joshi, Sarah Moss, Chantel Ritter, Emma Truffyn
Undergraduate Students
Amanda Godes
OUAC Graduate Application Fee Reimbursement Program (2022)
The Department of Psychology is offering an OUAC graduate application fee reimbursement as part of its efforts to promote Equity, Diversity, Inclusion and Indigenisation (EDII). Applicants who are selected will be able to receive a reimbursement by submitting their receipts for the $120 OUAC application fee for our graduate programs in psychology. The deadline for applications is 5pm, January 16th, 2023.
The application form and further details can be accessed here.
Past Events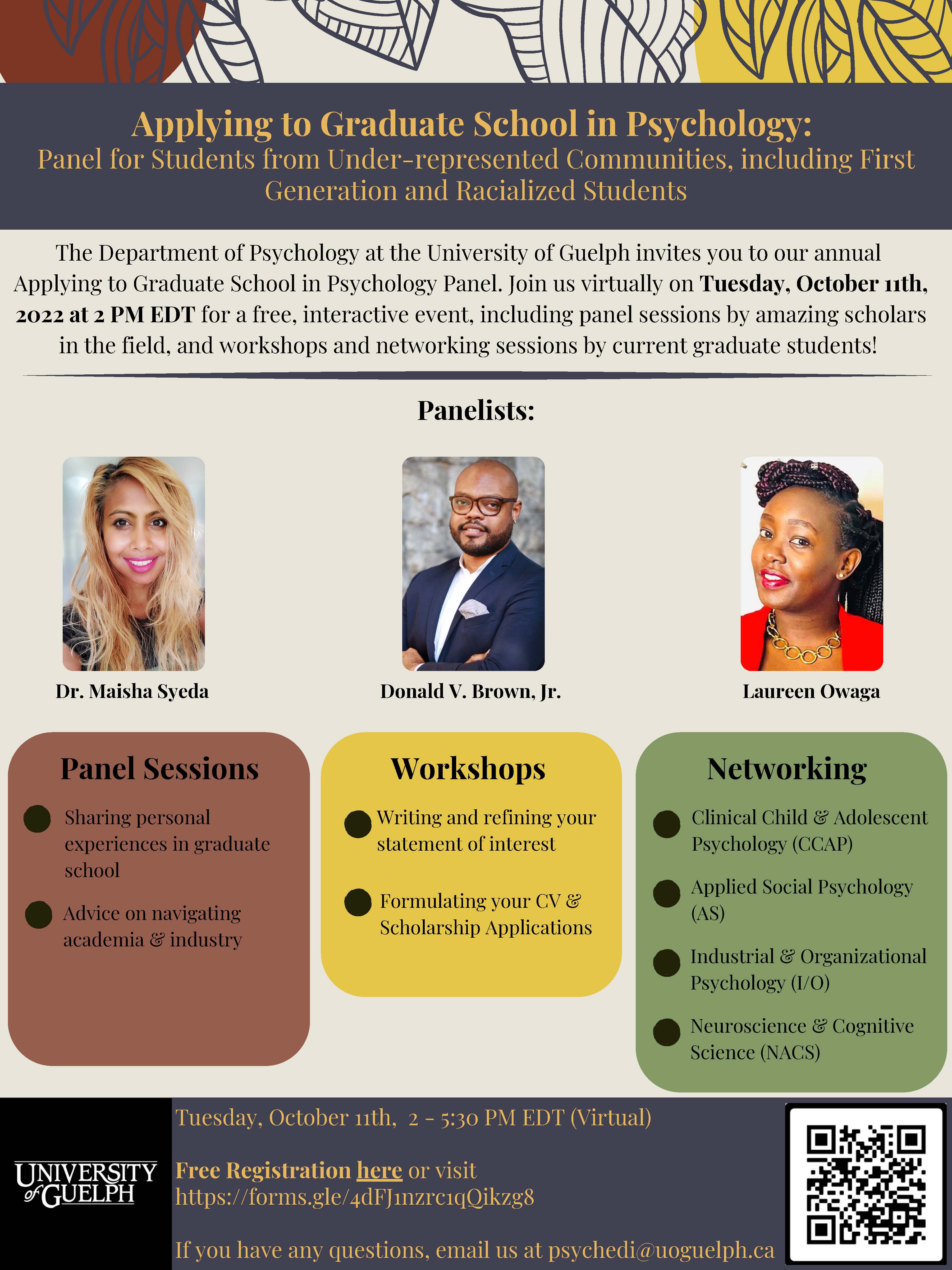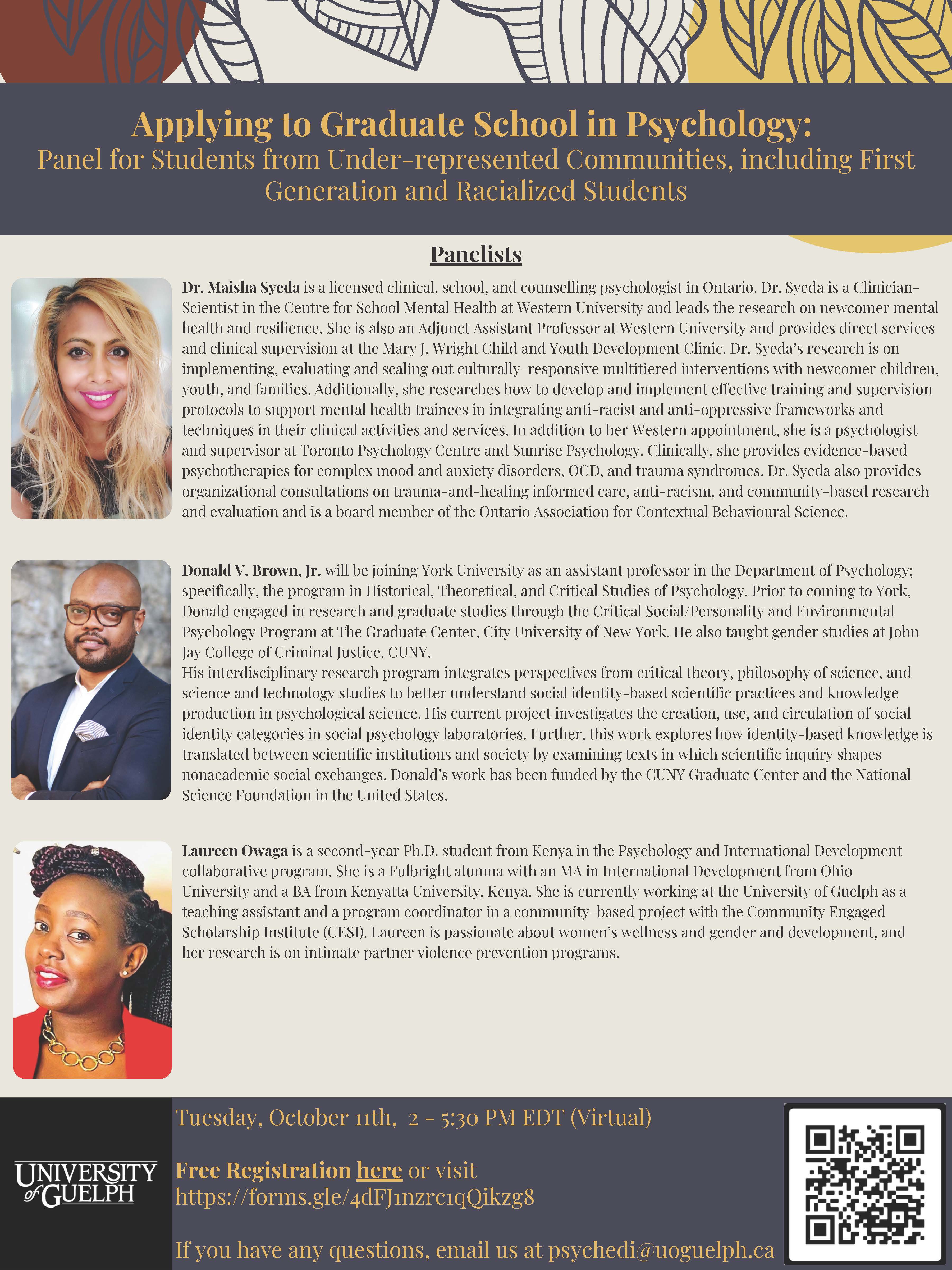 EDI Awards
Workplace Equity, Diversity and Inclusion Graduate Research Fund. If you are conducting, or are planning to conduct, research that contributes to the understanding, reduction or elimination of discrimination in the workplace, we invite you to apply for the WEDI Graduate Research Fund, made available through the generous donations of I/O faculty and alumni. Psychology graduate students from all areas are invited to apply.
The award is valued at $2,500.
APPLICATION DEADLINE: The 2022 deadline has passed but this is typically at the end of October.

2022 Winner: Caren Colaco; Title: "Investigating group differences in exhaustion and discrimination in the workplace."
A 2nd 2022 winner was subsequently announced: Melissa Pike, for her research proposal on the impacts of ableist and inclusive language in job advertisements on people with disabilities.
If you are interested in contributing to the work of the committee, please contact the Chair, Jeffery Yen.