Undergraduate Course Selection
IMPORTANT! If you can't register for a course, READ THIS FIRST! 
Flow chart for course selection with clickable links (preview):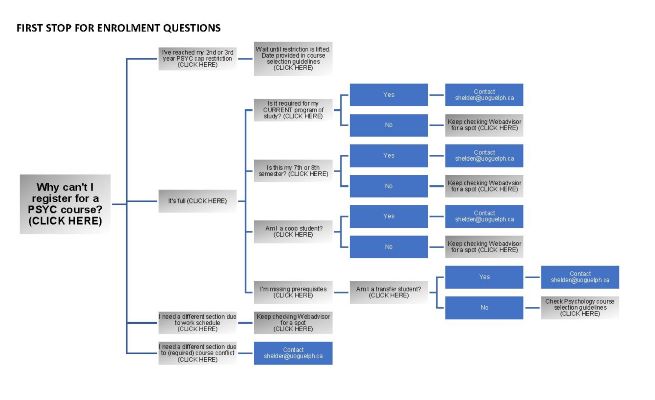 To request this information in an alternate format contact shelder@uoguelph.ca.
Psychology course waiver requests
Early registration is STRONGLY encouraged! Course selection opens up several months in advance of each semester (June for Fall, November for Winter). During course registration, you may find that a course you would like to register in is full. Occasionally, a waiver can be granted to allow you to register under certtain circumstances. See the FAQs below to learn your next steps.
Helpful links:
From the Registrar:
Contacts in Psychology:
Sharon Helder
Academic Advisor and Manager
shelder@uoguelph.ca
Undergraduate Program Coodinator
coming soon
Adriana Tramontana
Undergraduate Program Assistant
psycugas@uoguelph.ca
Expect delays of up to 7 business days during times of heavy volume (course selection, at the start of a semester, etc.).
Before you send an email, CHECK THE FAQS BELOW. Your question may be answered here!